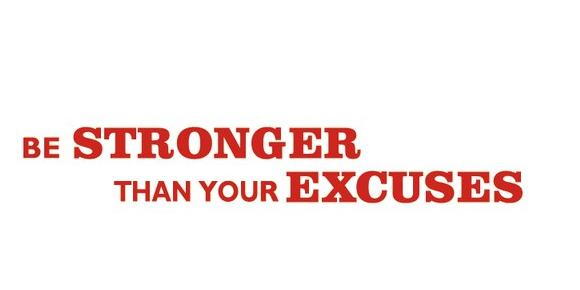 "Be stronger than your excuses." This is a popular quote. What does it mean? Are you making excuses as a means to put off projects around the house, deadlines at work, or even your health? While I am not licensed to discuss how you should manage your work and house chores, I am licensed to discuss your health. 
We want to inspire you to stop making excuses. If you have time to watch tv then you have time to workout. In fact, why not walk on the treadmill and watch your favorite show. You can make healthy choices fun. 
If you have time to bake sweets, why not bake some vegetables with olive oil instead? It is all about how you prioritize your time and resources. Your attitude matters too. Adopting a positive attitude can make your health journey an inspirational adventure.
Approach your health with enthusiasm. Make time to do the exercises I have taught you. If you have not been taught exercises by me yet, then schedule a rehab appointment. We want to help you avoid pain and injury.